News
&
Articles
4.16.2023 - Holy Week at St Marks 2023
4.9.2023 - Renewal of Baptism
2.22.2023 - Fastnachts - A Shrove Tuesday Tradition
2.13.2023 - Souper Bowl of Caring
1.8.2023 - Congregation Council Installed
12.11.2022 - A Piece of Our Past . . The Christmas Figurines
12.4.2022 - St. Mark's Annual Report Issued
11.20.2022 - St Marks Participates in Operation Christmas Child
11.6.2022 - Remembering the Saints
10.16.2022 - Harvest Home Sunday
10.10.2022 - St. Mark's Walks to Stop Hunger
10.9.2022 - Lutheran World Relief - Blanket Sunday
7.25.2022 - St Marks Indoor Picnic
7.9.2022 - Photos from St. Mark's July 4, 2022 Hospitality
6.19.2022 - Council Proposes Revised St. Mark's Constitution & By-Laws
6.12.2022 - Confirmation
5.26.2022 - ELCA Response to the School Shooting in Uvalde, Texas
3.13.2022 - The Wind Strikes Again!
3.1.2022 - Fastnachts - A Shrove Tuesday Tradition
12.6.2021 - St. Mark's Annual Report Issued
Congregation Council Installed
January 8, 2023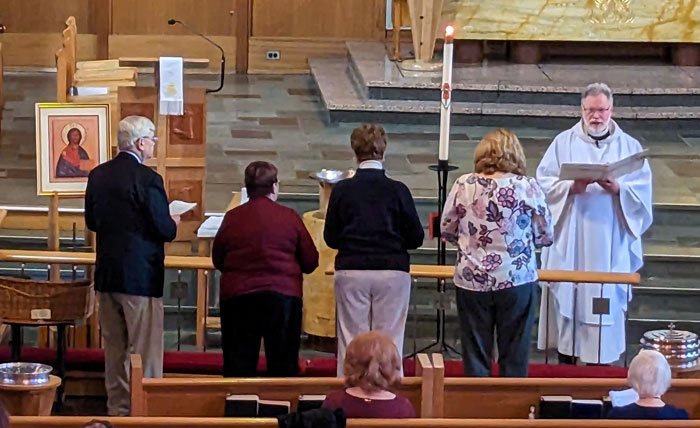 St. Mark's marked the start of 2023 by installing newly selected Congregation Council members, at both services, on January 8. Council members had been elected at the annual meeting, that occurred on December 4, 2022.
New Members are Debra Buckman, Nikki Jackson, Helen Schramm and Shelby Weber. Returning Members are Vicki Haussmann and Ralph Zeigler.
Please pray for the council members as they guide St. Mark's in the coming year.