News
&
Articles
10.5.2021 - Pets Blessed
10.3.2021 - Blanket Sunday
9.26.2021 - Milestone Moment: Blessing of the Car Keys
9.25.2021 - God Moment
9.18.2021 - Celebrating "God's Work, Our Hands"
8.15.2021 - Bernadette Jones Recognized for Her Service
7.6.2021 - Recognizing High School Graduate Sean Jensen
7.6.2021 - Pastor Vasey Celebrates 35 years of Ordination
2.11.2021 - St. Mark's to Reopen for Regular Sunday Services
1.17.2021 - Finley Matthew Hanford Baptized
12.12.2020 - St. Mark's Annual Report Issued
12.12.2020 - St. Mark's In Person Services Suspended
11.17.2020 - St. Mark's Issues Guidelines for Christmas Eve Services
11.14.2020 - Operation Christmas Child 2020
11.1.2020 - Celebrating All Saints Sunday
10.23.2020 - Crop Walk 2020
10.20.2020 - Harvest Home Sunday
10.15.2020 - Sunday School Blankets
10.4.2020 - Blessing of Pets
10.4.2020 - Count Your Blessings: Blanket Sunday

St. Mark's Celebrates "God's Work, Our Hands"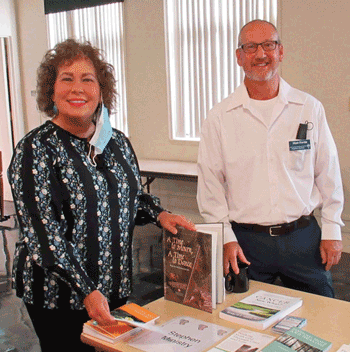 St. Mark's Lutheran Church has a long history of service to the people of the greater Williamsport community. So, it was not a difficult task to create displays of ways to encourage members to explore service activities connecting them to life in Jesus Christ.
Using "God's Work/Our Hands" as the theme of the Ministry Fair, coordinated this year by the Faith and Fellowship Committee and chaired by parishioner Vicki Haussmann, congregants had an opportunity not only to "acknowledge God's grace for us" through these service projects, but also to become involved in "sharing that grace with others through sacrifice and service," said The Reverend Brian D. Vasey, pastor.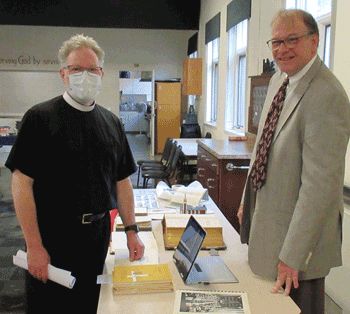 Displays included information about Stephen Ministry, the upcoming CROP Walk, shoebox ministry, parish outreach, worship and music, church archives, safety, and altar flowers, among others. The congregation also is actively involved in other community and church programs, including Lutheran World Relief, Family Promise, Shepherd of the Streets, Sojourner Truth Ministry, United Churches of Lycoming County food pantry, the Ronald McDonald House, and many additional opportunities.
During the Sunday morning worship service, Pastor Vasey reminded congregants that "Christ comes to us, and the work of God is shared with us so that we may share it with others. The work of God is the work of love."
The Ministry Fair was in response to a churchwide initiative of the Evangelical Lutheran Church in America to "celebrate who we are…one church, freed in Christ to serve and love our neighbor."