News
&
Articles
10.5.2021 - Pets Blessed
10.3.2021 - Blanket Sunday
9.26.2021 - Milestone Moment: Blessing of the Car Keys
9.25.2021 - God Moment
9.18.2021 - Celebrating "God's Work, Our Hands"
8.15.2021 - Bernadette Jones Recognized for Her Service
7.6.2021 - Recognizing High School Graduate Sean Jensen
7.6.2021 - Pastor Vasey Celebrates 35 years of Ordination
2.11.2021 - St. Mark's to Reopen for Regular Sunday Services
1.17.2021 - Finley Matthew Hanford Baptized
12.12.2020 - St. Mark's Annual Report Issued
12.12.2020 - St. Mark's In Person Services Suspended
11.17.2020 - St. Mark's Issues Guidelines for Christmas Eve Services
11.14.2020 - Operation Christmas Child 2020
11.1.2020 - Celebrating All Saints Sunday
10.23.2020 - Crop Walk 2020
10.20.2020 - Harvest Home Sunday
10.15.2020 - Sunday School Blankets
10.4.2020 - Blessing of Pets
10.4.2020 - Count Your Blessings: Blanket Sunday
Blanket Sunday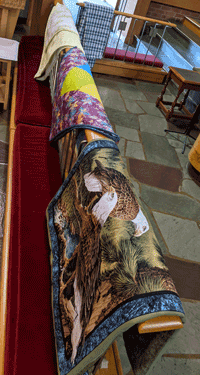 On October 3, 2021 we celebrated blanket Sunday.
With cold weather approaching, our thoughts go to the warmth of blankets. St. Mark's quilters couldn't meet in the past year due to COVID restrictions, but donated blankets and kits served the same purpose on Blanket Sunday. A collection was taken to support the blanket ministry.
The blankets will be delivered worldwide to attend to the needs of many, for warmth and comfort.
The quilters have started meeting again, so next year the home made blankets will be back. There are always needs to be met.