News
&
Articles
3.17.2020 - Lenten Services Cancelled
3.16.2020 - Letter From the Bishop: Follow Martin Luther's Example
2.22.2020 - St. Mark's Building Attains Milestone
2.17.2020 - Farewell to Christian
2.2.2020 - Souper Bowl Sunday
12.15.2019 - Welcoming Finley Stugart Through Baptism
12.8.2019 - Pageant of Christian Symbols Celebrated
11.25.2019 - Bishop Collins Presides at Pastor Vasey's Installation
11.18.2019 - The Williamsport Camerata Performs to Support Organ Repairs
11.11.2019 - An All Saint's Sunday Welcome To Pastor Brian Vasey
11.2.2019 - All Saints' Day
10.20.2019 - St. Mark's New Pastor Brian David Vasey
10.10.2019 - The Gift of Warmth
10.6.2019 - Thank You Pastor James West
9.23.2019 - Rally Day 2019
9.7.2019 - St. Mark's Fall Bazaar
8.18.2019 - 70+, SINGLE AND STILL PRAISING GOD
7.18.2019 - St. Mark's Picnic and Fishing Derby
7.7.2019 - St. Mark's July 4, 2019 Events
6.27.2019 - Roaring With Vacation Bible School
6.27.2019 - Farewell and Godspeed to Bookkeeper Graydon Yearick

The Passover Seder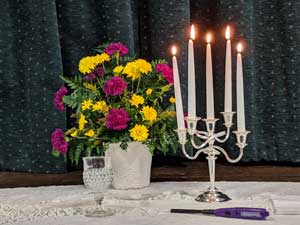 On Wednesday, April 16, 2019 St. Mark's continued the annual tradition of celebrating the Passover Seder. Members and guests followed the Haggadah, eating the foods and and following the required ritual. Participants also enjoyed a meal of fish, rice and broccoli.
This year Mark's was pleased to welcome several Jewish guests to the meal. They led us in singing a traditional Seder song in both Hebrew and English.
Although the Seder is a part of a Jewish festival, for Christians, it is of special interest since it provides the historical background for the great Christian festival of Easter. The Last Supper is linked with the Passover Seder, and such concepts as the Lamb of God and the wine and bread of Communion originated in the Passover ritual.