News
&
Articles
3.17.2020 - Lenten Services Cancelled
3.16.2020 - Letter From the Bishop: Follow Martin Luther's Example
2.22.2020 - St. Mark's Building Attains Milestone
2.17.2020 - Farewell to Christian
2.2.2020 - Souper Bowl Sunday
12.15.2019 - Welcoming Finley Stugart Through Baptism
12.8.2019 - Pageant of Christian Symbols Celebrated
11.25.2019 - Bishop Collins Presides at Pastor Vasey's Installation
11.18.2019 - The Williamsport Camerata Performs to Support Organ Repairs
11.11.2019 - An All Saint's Sunday Welcome To Pastor Brian Vasey
11.2.2019 - All Saints' Day
10.20.2019 - St. Mark's New Pastor Brian David Vasey
10.10.2019 - The Gift of Warmth
10.6.2019 - Thank You Pastor James West
9.23.2019 - Rally Day 2019
9.7.2019 - St. Mark's Fall Bazaar
8.18.2019 - 70+, SINGLE AND STILL PRAISING GOD
7.18.2019 - St. Mark's Picnic and Fishing Derby
7.7.2019 - St. Mark's July 4, 2019 Events
6.27.2019 - Roaring With Vacation Bible School
6.27.2019 - Farewell and Godspeed to Bookkeeper Graydon Yearick
Bishop Collins Presides at Pastor Vasey's Installation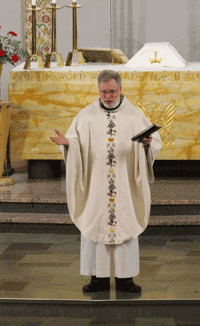 With great ceremony, Pastor Brian Vasey was formally installed as the Pastor of St. Mark's Lutheran Church, on Sunday, November 24, 2019. Bishop Barbara Collins presided at the service, assisted by Assistant to the Bishop Pastor Craig Miller and Conference Dean, Pastor Ted Cockley.
The service began with an organ/piano duet by Pastor Vasey's wife Joanne on the organ joining with Music Director Christian Humcke on the piano. Joanne Vasey is regularly employed as the organist of Christ's Lutheran Church, Lewisburg. Daughter Brandy Vasey Aguirre then joined the musicians with song.
Pastor Vasey was presented as St. Mark's called pastor by Council President Linda Rosini. The Pastor then committed to the serve St. Mark's and its congregation, while the congregation committed to aid the pastor in his call.
The service was followed by a reception in Fellowship Hall.