News
&
Articles
5.23.2019 - Council Members Elected
5.22.2019 - 2019 Annual Report Book Issued
4.20.2019 - The Passover Seder
4.13.2019 - Meal Packaging Event Draws Crowd of Volunteers
2.23.2019 - Photos from the 2019 Hobby Expo
2.12.2019 - All the Languages of the Good News Milestone
2.4.2019 - Souper Bowl Sunday Results
1.30.2019 - Faith Chest Milestone Celebrated
1.13.2019 - Hymn Debut Celebrates Baptism of Christ
12.25.2018 - Sights of Christmas
12.24.2018 - Christmas Outreach
12.14.2018 - St. Mark's Hosts Successful Blood Drive
12.9.2018 - Kids Night Out!
11.18.2018 - Packing for Operation Christmas Child
11.6.2018 - All Saints Day 2018
10.28.2018 - Pumpkins!
10.18.2018 - Harvest Home Celebration
10.18.2018 - Celebrating Blanket Sunday
10.14.2018 - Blessing of the Keys
9.23.2018 - Bazaar Raises Funds for Charity

Celebrating Independence Day with St. Mark's
* More Photos *
Our Independence Day tradition continues. St. Mark's again hosted a front lawn party on July Fourth as part of a city-wide celebration of Independence Day. Everyone who passed the church was offered free food, drink and trinkets by one of our many volunteers stationed along the street.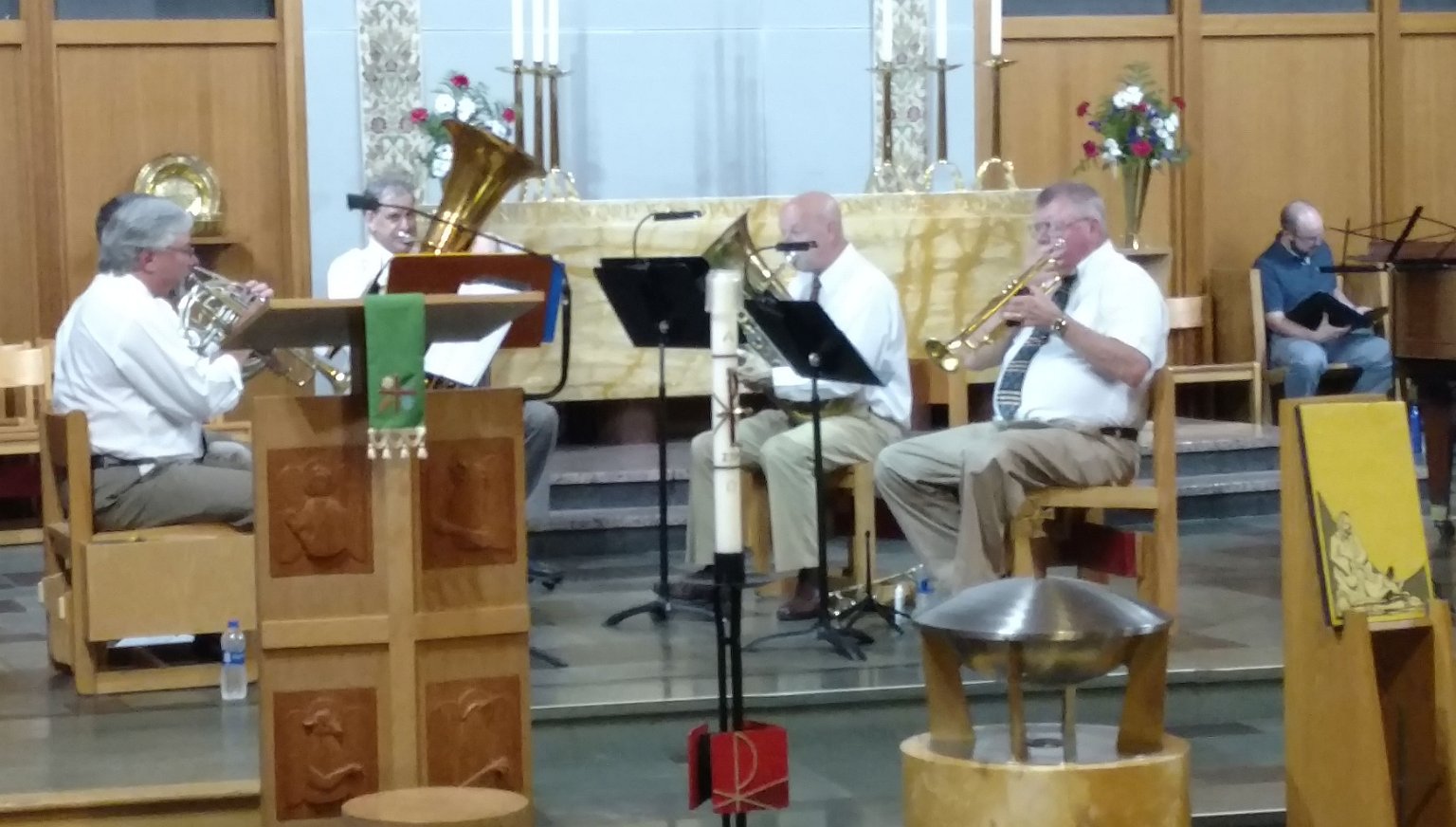 How much did the revelers consume?
Cases of bottled water and soda
Gallons of lemonade and ice tea
200 packages of salty snacks
Pounds and pounds of candy and fruit snacks
20 pounds of popcorn, popped!
300 hot dogs
Hundreds of trinkets, necklaces and kiddy tattoos.
The Commonwealth Brass Quintet with assistance from Nathan Fulkerson, Theo Lentz, and Bernadette Jones presented a patriotic program in our nave with more than 85 people enjoying the presentation and participating in singing along.
People donated $401.29 to The United Churches of Lycoming County to be shared equally by the United Churches' Food Pantry and the Shepherd of the Streets.
The Outreach Committee heartily thanks the congregation for the many donations of candy, trinkets water, salty snacks, hot dogs, buns and money to support this event. Extra special thanks go to the many members of the congregation who volunteered to set up, serve and clean up this event all in time for the fireworks. Thanks also to the Pepsi Bottling Company of Williamsport for donating cases of soda and water. Our front lawn celebration was a wonderful outreach to all as we celebrated God, country and community on this historic day.