News
&
Articles
5.6.2018 - Successful Meal Packaging Event at St. Mark's
5.6.2018 - Three Nominated for Council Seats
5.5.2018 - 2018 Annual Report Book Issued 
3.28.2018 - Celebrating the Passover Seder
3.27.2018 - March Lunch & Fellowship
2.26.2018 - Prayer Pillow Milestone
2.26.2018 - You Can Help . . . Meal Packaging Event
2.5.2018 - Souper Bowl 2018!
1.27.2018 - Lent 2018 Activities
12.25.2017 - Celebrating Christmas Eve at St. Mark's
12.17.2017 - Remembrance Service
12.15.2017 - Thank You for the Christmas Gifts
12.12.2017 - Williamsport Civic Chorus Concert & Kids' Night Out
12.6.2017 - Welcoming Advent
11.16.2017 - Successful St. Mark's Blood Drive
11.13.2017 - Operation Christmas Child
11.5.2017 - All Saints Day 2017
10.27.2017 - Joint Catholic-Lutheran Commemoration of the Reformation
10.23.2017 - Consecration Sunday
10.21.2017 - Preparation for Consecration Sunday
10.21.2017 - Harvest Home Sunday

Second Saturday Mints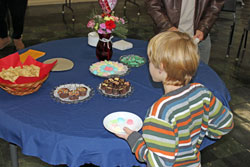 The Second Saturday crew gathered on February 11, to make mints! You know, the kind you get at weddings.
Using molds, the crew created multiple shapes of sweet, colorful mints. A number of flavors were created, with the usual suspects being most prevalent. The white colored Sassafras was perhaps the most unusual.
The crew ended the morning with a hearty lunch of chili and muffins.
If you attended the Hobby Expo the following Sunday, you were able to taste the mint creations. Delightful!