News
&
Articles
Aug 2, 2017 - St. Mark's Blood Drive
Jul 5, 2017 - Celebrating July 4 with St. Mark's
Jul 3, 2017 - Pastor West Celebrates 35th Anniversary of Ordination
Jul 3, 2017 - Pandamania VBS
Jun 13, 2017 - Summer picnic photos
Jun 10, 2017 - Blood drive - July 21
Jun 10, 2017 - Ice Cream Social
May 14, 2017 - Wedding Anniversary Milestone
May 10, 2017 - The 2017 Annual Report Booklet is Out
May 4, 2017 - Outreach Program Brings Food Packers to St. Mark's
May 4, 2017 - PandaMania VBS coming June 18-22
Apr 23, 2017 - Progressions Milestone: Jacob Schreckengast is entering the Navy
Apr 16, 2017 - Photos from Easter at St. Mark's
Apr 14, 2017 - St. Mark's Celebrates the Seder
Apr 12, 2017 - Palm Cross Making
Mar 26, 2017 - Pastor West Installed as Intentional Interim
Mar 26, 2017 - Bowling Excursion
Mar 19, 2017 - Youth Fundraising Dinner!
Feb 13, 2017 - Hobby Expo 2017
Feb 12, 2017 - Second Saturday Mints

Youth Fundraising Dinner!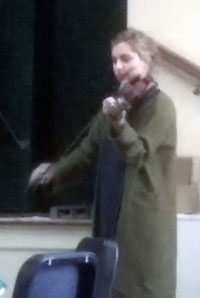 In spite of Old Man Winter trying to keep hold of us, the youths' fundraising dinner was a wonderful success. A little over 30 people were in attendance with numerous take-out dinners going home with those who were unable to stay.
The meal of salad, spaghetti, bread, and dessert was well-served and delicious. Kitchen staff and wait staff alike did an excellent job.
Also excellent were our performers of the day: Laura Z., Sadie, Grace, Taylor, and Hannah offered string, horn, and vocal music for their audience to enjoy.
A total of $384 dollars was received toward a charity of the youths' choice.