News
&
Articles
Dez 6, 2017 - Welcoming Advent
Nov 13, 2017 - Operation Christmas Child
Nov 5, 2017 - All Saints Day 2017
Okt 27, 2017 - Joint Catholic-Lutheran Commemoration of the Reformation
Okt 23, 2017 - Consecration Sunday
Okt 21, 2017 - Harvest Home Sunday
Okt 21, 2017 - Preparation for Consecration Sunday
Okt 8, 2017 - Blanket Sunday 2017
Sep 30, 2017 - Lycoming College Involvement Fair
Sep 27, 2017 - Lunch 'N Fellowship E-X-P-A-N-D-S!
Sep 27, 2017 - St. Mark's Celebrates the Reformation in October
Sep 18, 2017 - The Rite of Confirmation 2017
Sep 17, 2017 - Celebration 2017
Sep 6, 2017 - Thank-you Donna Elkin
Sep 4, 2017 - Meet Christian Humcke St. Mark's New Director of Music
Sep 1, 2017 - Happy Birthday Pastor West!
Aug 21, 2017 - Progressions Milestone - Zeigler Girls
Aug 2, 2017 - St. Mark's Blood Drive
Jul 5, 2017 - Celebrating July 4 with St. Mark's
Jul 3, 2017 - Pastor West Celebrates 35th Anniversary of Ordination
Jul 3, 2017 - Pandamania VBS

Youth Fundraising Dinner!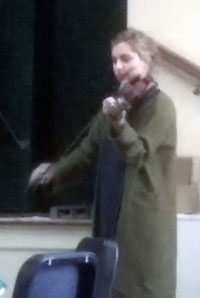 In spite of Old Man Winter trying to keep hold of us, the youths' fundraising dinner was a wonderful success. A little over 30 people were in attendance with numerous take-out dinners going home with those who were unable to stay.
The meal of salad, spaghetti, bread, and dessert was well-served and delicious. Kitchen staff and wait staff alike did an excellent job.
Also excellent were our performers of the day: Laura Z., Sadie, Grace, Taylor, and Hannah offered string, horn, and vocal music for their audience to enjoy.
A total of $384 dollars was received toward a charity of the youths' choice.