News
&
Articles
5.6.2018 - Successful Meal Packaging Event at St. Mark's
5.6.2018 - Three Nominated for Council Seats
5.5.2018 - 2018 Annual Report Book Issued 
3.28.2018 - Celebrating the Passover Seder
3.27.2018 - March Lunch & Fellowship
2.26.2018 - Prayer Pillow Milestone
2.26.2018 - You Can Help . . . Meal Packaging Event
2.5.2018 - Souper Bowl 2018!
1.27.2018 - Lent 2018 Activities
12.25.2017 - Celebrating Christmas Eve at St. Mark's
12.17.2017 - Remembrance Service
12.15.2017 - Thank You for the Christmas Gifts
12.12.2017 - Williamsport Civic Chorus Concert & Kids' Night Out
12.6.2017 - Welcoming Advent
11.16.2017 - Successful St. Mark's Blood Drive
11.13.2017 - Operation Christmas Child
11.5.2017 - All Saints Day 2017
10.27.2017 - Joint Catholic-Lutheran Commemoration of the Reformation
10.23.2017 - Consecration Sunday
10.21.2017 - Preparation for Consecration Sunday
10.21.2017 - Harvest Home Sunday

Youth Fundraising Dinner!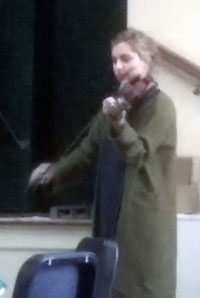 In spite of Old Man Winter trying to keep hold of us, the youths' fundraising dinner was a wonderful success. A little over 30 people were in attendance with numerous take-out dinners going home with those who were unable to stay.
The meal of salad, spaghetti, bread, and dessert was well-served and delicious. Kitchen staff and wait staff alike did an excellent job.
Also excellent were our performers of the day: Laura Z., Sadie, Grace, Taylor, and Hannah offered string, horn, and vocal music for their audience to enjoy.
A total of $384 dollars was received toward a charity of the youths' choice.