News
&
Articles
1.27.2018 - Lent 2018 Activities
12.25.2017 - Celebrating Christmas Eve at St. Mark's
12.17.2017 - Remembrance Service
12.15.2017 - Thank You for the Christmas Gifts
12.12.2017 - Williamsport Civic Chorus Concert & Kids' Night Out
12.6.2017 - Welcoming Advent
11.16.2017 - Successful St. Mark's Blood Drive
11.13.2017 - Operation Christmas Child
11.5.2017 - All Saints Day 2017
10.27.2017 - Joint Catholic-Lutheran Commemoration of the Reformation
10.23.2017 - Consecration Sunday
10.21.2017 - Preparation for Consecration Sunday
10.21.2017 - Harvest Home Sunday
10.8.2017 - Blanket Sunday 2017
9.30.2017 - Lycoming College Involvement Fair
9.27.2017 - St. Mark's Celebrates the Reformation in October
9.27.2017 - Lunch 'N Fellowship E-X-P-A-N-D-S!
9.18.2017 - The Rite of Confirmation 2017
9.17.2017 - Celebration 2017
9.6.2017 - Thank-you Donna Elkin

Celebrating Christmas Eve at St. Mark's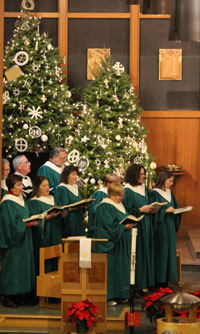 What a busy day!
Christmas Eve was also the last Sunday of Advent, so the day started with the Advent message at regular Sunday worship.
Advent ended and Christmas Eve began rather abruptly. After morning services, the elves began to decorate the Nave for the scheduled evening services.
The 7:00 PM service was conducted by the children of the congregation. The music, the lessons, the prayer were all by our youth.
The 10:00 PM candlelight service was a beautiful way the celebrate the birth of Christ.