News
&
Articles
7.17.2018 - Family Fishing Derby
7.9.2018 - Celebrating Independence Day with St. Mark's
7.9.2018 - Photos from July 4 Hospitality
6.10.2018 - Register for Vacation Bible School
6.10.2018 - Progressions Milestone
5.6.2018 - Three Nominated for Council Seats
5.6.2018 - Successful Meal Packaging Event at St. Mark's
5.5.2018 - 2018 Annual Report Book Issued 
3.28.2018 - Celebrating the Passover Seder
3.27.2018 - March Lunch & Fellowship
2.26.2018 - You Can Help . . . Meal Packaging Event
2.26.2018 - Prayer Pillow Milestone
2.5.2018 - Souper Bowl 2018!
1.27.2018 - Lent 2018 Activities
12.25.2017 - Celebrating Christmas Eve at St. Mark's
12.17.2017 - Remembrance Service
12.15.2017 - Thank You for the Christmas Gifts
12.12.2017 - Williamsport Civic Chorus Concert & Kids' Night Out
12.6.2017 - Welcoming Advent
11.16.2017 - Successful St. Mark's Blood Drive

Celebrating Christmas Eve at St. Mark's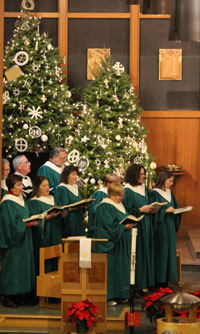 What a busy day!
Christmas Eve was also the last Sunday of Advent, so the day started with the Advent message at regular Sunday worship.
Advent ended and Christmas Eve began rather abruptly. After morning services, the elves began to decorate the Nave for the scheduled evening services.
The 7:00 PM service was conducted by the children of the congregation. The music, the lessons, the prayer were all by our youth.
The 10:00 PM candlelight service was a beautiful way the celebrate the birth of Christ.