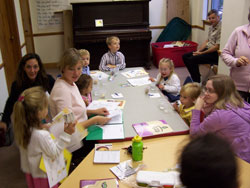 Sunday School at St. Mark's is a wonderful time of fellowship and learning for all ages--from our oldest to our youngest members of the congregation.
Our 2016-17 program opens Sunday morning, September 18 at 9:15am. Students proceed directly do their classrooms. We have closing in the library at 10:10am where we have announcements and the Lord's Prayer.
For our adults, we have a choice of three:
● Crossways: Our adult Crossways study resumes. We need to discern how to be the church in all times and places. Caution: Idea Development zone ahead.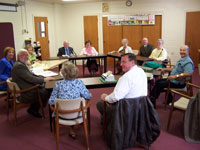 ● Middle Lounge: Discussion group involving the study from various sources. This group takes a bible-based text, reads it, studies and discusses the text. The discussion is most lively.
● Young Adults: Meet in the Nursery. This is a class for young adults, led by young adults: Audrey Comerford and Declan Jones. This is for those college-aged, twenty-somethings, and the young at heart—single or married, with or without young children. There will be no linear progression through a book so those home from college or anyone visiting for a weekend may easily join in the discussions.
● Our high school youth meet in the North Lounge, a room set up especially for them in an informal setting that encourages discussion focused on the intersection of scripture and everyday life. Bob Jones continues to lead this group after effectively developing the format in 2006. The youth have expressed an interest in examining current affairs and how the Bible helps us to put things in perspective. They also have a little "breakfast bar" available to them on Sunday mornings and access to contemporary Christian CDs.
● As they prepare for confirmation, our middle school students involve themselves with a more goal-oriented curriculum as they learn about what, exactly, it means to be a Lutheran. They learn about the history, prayers, terminology and services of the church. They also become involved with service projects and trips to locations important to the history of the Lutheran church in America.

● This year elementary and younger students have a new curriculum, called "Whirl". It is through Sparkhouse and is very similar to our Spark program. This covers ages 2 through 5th grade. The lessons are lectionary based so the students will hear the same story in Sunday School that they will hear in the church service that Sunday. The kids will have their own Whirl Bible and Learner Leaflets. The new feature is a video clip for each Sunday approximately 4 minutes long that covers the that week's bible story in a "real-world" situation. This includes new characters that will be sure to keep the kids' attention. For more detailed information please visit their website at http://wearesparkhouse.org/kids/whirl.
If any of these interest you—as a student or a volunteer teacher — please contact our Youth & Family Ministry leaders at bjones@stmarkswilliamsport.org or mowen@stmarkswilliamsport.org.