News
&
Articles
8.19.2018 - Milestone: Praising God for More than 70 years
7.17.2018 - Family Fishing Derby
7.9.2018 - Celebrating Independence Day with St. Mark's
7.9.2018 - Photos from July 4 Hospitality
6.28.2018 - Photos from Wizards & Wonders VBS
6.10.2018 - Progressions Milestone
5.6.2018 - Successful Meal Packaging Event at St. Mark's
5.6.2018 - Three Nominated for Council Seats
5.5.2018 - 2018 Annual Report Book Issued 
3.28.2018 - Celebrating the Passover Seder
3.27.2018 - March Lunch & Fellowship
2.26.2018 - You Can Help . . . Meal Packaging Event
2.26.2018 - Prayer Pillow Milestone
2.5.2018 - Souper Bowl 2018!
1.27.2018 - Lent 2018 Activities
12.25.2017 - Celebrating Christmas Eve at St. Mark's
12.17.2017 - Remembrance Service
12.15.2017 - Thank You for the Christmas Gifts
12.12.2017 - Williamsport Civic Chorus Concert & Kids' Night Out
12.6.2017 - Welcoming Advent

Successful Meal Packaging Event at St. Mark's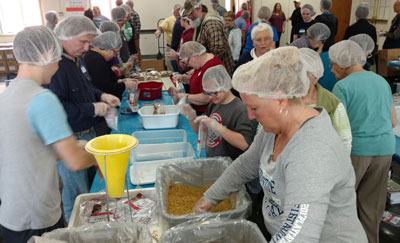 The Meal Packaging Event: Ending Hunger, Enriching Lives was held at St. Mark's Lutheran Church on Saturday, April 21. Volunteers of all ages and abilities packaged 20,000 fortified tomato basil pasta meals.
Over 160 people participated in two shifts of packaging. Volunteers filled, weighed, sealed and boxed the meals for delivery to local food banks and pantries. with the high level of participation, all of the food was packaged and boxed in about 2 1/2 hours
Our kitchen crew served hot dogs and desserts. everyone who worked was well fed afterwards.
Thanks to all who took the time to work at the meal packaging event.