News
&
Articles
Nov 13, 2017 - Operation Christmas Child
Nov 5, 2017 - All Saints Day 2017
Okt 27, 2017 - Joint Catholic-Lutheran Commemoration of the Reformation
Okt 23, 2017 - Consecration Sunday
Okt 21, 2017 - Preparation for Consecration Sunday
Okt 21, 2017 - Harvest Home Sunday
Okt 8, 2017 - Blanket Sunday 2017
Sep 30, 2017 - Lycoming College Involvement Fair
Sep 27, 2017 - St. Mark's Celebrates the Reformation in October
Sep 27, 2017 - Lunch 'N Fellowship E-X-P-A-N-D-S!
Sep 18, 2017 - The Rite of Confirmation 2017
Sep 17, 2017 - Celebration 2017
Sep 6, 2017 - Thank-you Donna Elkin
Sep 4, 2017 - Meet Christian Humcke St. Mark's New Director of Music
Sep 1, 2017 - Happy Birthday Pastor West!
Aug 21, 2017 - Progressions Milestone - Zeigler Girls
Aug 2, 2017 - St. Mark's Blood Drive
Jul 5, 2017 - Celebrating July 4 with St. Mark's
Jul 3, 2017 - Pastor West Celebrates 35th Anniversary of Ordination
Jul 3, 2017 - Pandamania VBS
Outreach Program Brings Food Packers
to St. Mark's
Thousands of meals packaged in Fellowship Hall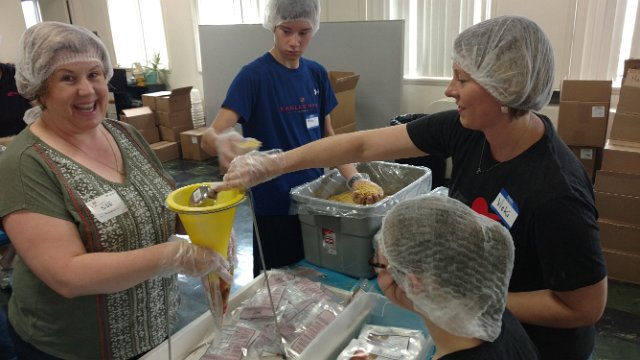 Saturday, April 29 saw Fellowship Hall converted into a giant food packaging facility. It was an amazing sight.
Close to 100 folks from St. Mark's and other churches in the region gathered to help the poor and hungry of the area. Five lines were organized with 10-12 people performing various functions in assembly line fashion. Measuring noodles and soy meal; filling bags with sauce, checking the weight and sealing the bags all occurred with military precision. The bags were then boxed and prepared for distribution.
Two shifts worked about 2 1/2 hours to package and box the meals. Support personnel worked countless hours before, during and after the event to prepare the materials, cook food for the workers and to pack the boxes out of the Church.
It was a monumental effort which packaged about 20,000 meals.
Many thanks also to all the volunteers who helped with set up, packaging, refreshments and cleaning up this event. Together with community members we were able to address the food insecurity that exists in our area.