News
&
Articles
1.27.2018 - Lent 2018 Activities
12.25.2017 - Celebrating Christmas Eve at St. Mark's
12.17.2017 - Remembrance Service
12.15.2017 - Thank You for the Christmas Gifts
12.12.2017 - Williamsport Civic Chorus Concert & Kids' Night Out
12.6.2017 - Welcoming Advent
11.16.2017 - Successful St. Mark's Blood Drive
11.13.2017 - Operation Christmas Child
11.5.2017 - All Saints Day 2017
10.27.2017 - Joint Catholic-Lutheran Commemoration of the Reformation
10.23.2017 - Consecration Sunday
10.21.2017 - Preparation for Consecration Sunday
10.21.2017 - Harvest Home Sunday
10.8.2017 - Blanket Sunday 2017
9.30.2017 - Lycoming College Involvement Fair
9.27.2017 - St. Mark's Celebrates the Reformation in October
9.27.2017 - Lunch 'N Fellowship E-X-P-A-N-D-S!
9.18.2017 - The Rite of Confirmation 2017
9.17.2017 - Celebration 2017
9.6.2017 - Thank-you Donna Elkin
Palm Cross Making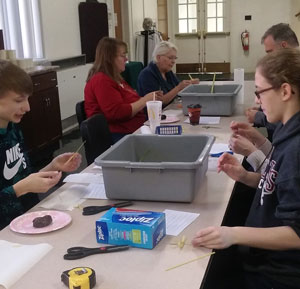 Every Palm Sunday, we wear palm crosses to remind us of Christ's triumphant entrance into Jerusalem. We take these crosses for granted, but many hands participated in their creation.
On Saturday, April 8, 2017 eight of us gathered to make 175 palm crosses which were available during both Palm Sunday services. Many thanks to everyone who helped, and a special thanks to Lou DeSeau, Linda DeSeau and Bob Miller for helping prepare the palms for cross making.
The next day, Devin Owen gathered a crew to put together some giant versions of the same crosses, for use during the service. Thanks guys!