News
&
Articles
Jul 5, 2017 - Celebrating July 4 with St. Mark's
Jul 3, 2017 - Pastor West Celebrates 35th Anniversary of Ordination
Jul 3, 2017 - Pandamania VBS
Jun 13, 2017 - Summer picnic photos
Jun 10, 2017 - Blood drive - July 21
Jun 10, 2017 - Ice Cream Social
May 14, 2017 - Wedding Anniversary Milestone
May 10, 2017 - The 2017 Annual Report Booklet is Out
May 4, 2017 - PandaMania VBS coming June 18-22
May 4, 2017 - Outreach Program Brings Food Packers to St. Mark's
Apr 23, 2017 - Progressions Milestone: Jacob Schreckengast is entering the Navy
Apr 16, 2017 - Photos from Easter at St. Mark's
Apr 14, 2017 - St. Mark's Celebrates the Seder
Apr 12, 2017 - Palm Cross Making
Mar 26, 2017 - Bowling Excursion
Mar 26, 2017 - Pastor West Installed as Intentional Interim
Mar 19, 2017 - Youth Fundraising Dinner!
Feb 13, 2017 - Hobby Expo 2017
Feb 12, 2017 - Second Saturday Mints
Feb 5, 2017 - Souper Bowl Sunday
Feb 5, 2017 - All the Languages of the Good News Milestone
Palm Cross Making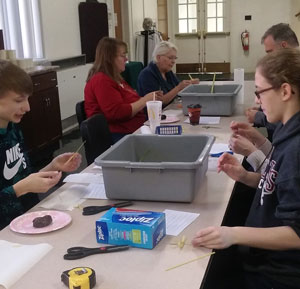 Every Palm Sunday, we wear palm crosses to remind us of Christ's triumphant entrance into Jerusalem. We take these crosses for granted, but many hands participated in their creation.
On Saturday, April 8, 2017 eight of us gathered to make 175 palm crosses which were available during both Palm Sunday services. Many thanks to everyone who helped, and a special thanks to Lou DeSeau, Linda DeSeau and Bob Miller for helping prepare the palms for cross making.
The next day, Devin Owen gathered a crew to put together some giant versions of the same crosses, for use during the service. Thanks guys!